Free Happiness PPT Template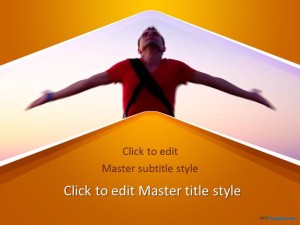 Free happiness PPT template is an inspirational theme that has a person with his arms wide open to embrace life. Make a presentation on what you think makes a person happy and share some of your most memorable and happiest experiences ever. Connect with the audience and encourage them to participate in the discussion as they share stories from their lives. Spread hope and positivity with positive PowerPoint backgrounds.
Download Happiness PowerPoint theme using Microsoft PowerPoint Mac and PC along with Office 365. The master slide has a young man celebrating his independence and living the moment to its fullest. The orange color, along with the sky make this a soothing theme for inspirational and motivational PPT background. Write down the most fun things you did recently in the inner slides for reminiscing in the later years.
or Sign In to Enable Downloads (it is FREE)