Free Happy Birthday PPT Template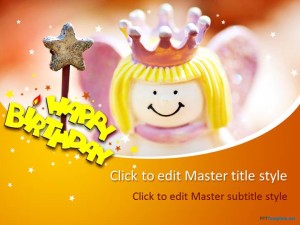 Free Happy birthday PPT template with a fairy holding a magic wand is perfect in celebrating the birthday party of a student in your Preschool or Kindergarten class. Light and bright colors, such as pink and orange are colors of youth and they will surely get a smile on their young faces. Celebrate the birthday of your children or those in your class with free backgrounds for PowerPoint. Alternatively, you can use this free slide design to plan the birthday party of your toddler. Select from birthday related slides, such as Snow flakes PowerPoint background and Candles PPT theme.
Free Happy birthday PPT Template has the .pptx extension and works well on the latest and previous versions of Microsoft PowerPoint and OpenOffice Impress. It can save you lots of cash in planning a birthday party. Make arrangements in advance and write down the cost of decoration items, in addition to alternative ways of getting them, such as through a friend who already has the supplies.
or Sign In to Enable Downloads (it is FREE)