Free Money PPT Template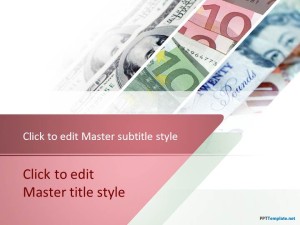 Free Money PPT template has bills of different currencies on it, such as US dollar and Euro. The title slide has a pink and white background. Use this to plan your financial investments and to keep a track of Forex Exchange rates. Keeping a track of your savings helps build towards a better Credit card score. Make a presentation about planning & investment with the help of free backgrounds for PowerPoint.
Free Money PowerPoint slides are downloadable using the latest and previous releases of Microsoft PowerPoint (such as PowerPoint 2010, and PowerPoint 2013), in addition to Keynote for Mac. The light slide design is quite unique for presentations regarding finance, as most of them emphasize the subject with a dark color scheme. Give a feminine touch to the next financial report and captivate the attention of the female audience with free European Currency PPT slides and Piggy Bank PowerPoint theme.
or Sign In to Enable Downloads (it is FREE)