Free George Washington PPT Template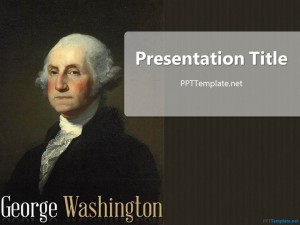 Free George Washington PPT Template is a nice presentation template for PowerPoint with a picture of George Washington that you can use to make presentations on US History or education. Make a short biography of George Washington, who was the first President of the United States. Celebrate his birthday on "Presidents Day" and make a presentation about his life motto and beliefs through history PPT backgrounds.
You can also download this free George Washington PowerPoint template to prepare awesome presentations on Politics. Make his Tricorn hat and other George Washington related costumes for kids. If your kids are a bit too big for costumes, sit down with them and make a project on PowerPoint that describes how he led the continental army and became a prominent figure in the history of United States using freedom PPT backgrounds.
or Sign In to Enable Downloads (it is FREE)