Free Beach PPT Template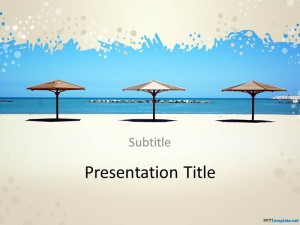 Free Beach PPT Template is a free PowerPoint template with beach design and palms in a paradise island. You can download this free beach PowerPoint template to decorate your presentations. The handmade master slide captures the image of a beach. Make a plan to go to the beach with friends and send free backgrounds for PowerPoint to everyone invited.
Download Beach PowerPoint slides for your Arts & Crafts class and run it with Microsoft PowerPoint 2011 for Mac and PowerPoint 2007 for PC. This is an artistic presentation with umbrellas overlooking the beach, inviting you to sit under the shade and enjoy the atmosphere. Share your drawings collection with other kids in your class so everyone can review your art work and give their feedback with the help of free Sky Beach PPT slides and Beach Relax PowerPoint theme.
or Sign In to Enable Downloads (it is FREE)