Free Rope PPT Template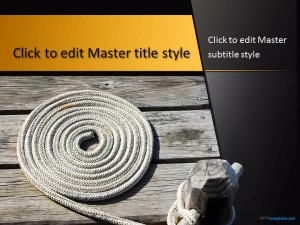 Free Rope PPT template with a docking station theme shows a rope attached to a wooden support. Make how to slides, such as how to form useful knots and how to tie a particular knot. Explain various facets of working at the docs with free PowerPoint backgrounds. Ropes are quite versatile in their application, as it increases the reach and holds things together. Explain how anchors and ropes are used through free Knot PowerPoint background and Chains ropes and Anchor PPT slides.
Ropes help in camping and homesteading in addition to boating. Learn the basic knots and teach others how to make these in a manner that is easily understandable. The title slide has a whitish rope rolled around, while its other end is tied to the corner post. The theme of free Rope PowerPoint slides is orange and white, which is quite simple, and gives it a fresh look.
If you have experience working at the docs, either as in transport or in Engineering, share information, such as responsibilities and job outlook. Docking stations are symbolic for blood, sweat and tears. Ropes are used as part of pulleys in which men lift the load up and lower it down by brute force.
Free Rope PPT template along with other symbolic slides about life at a docking station is downloadable for Microsoft PowerPoint and OpenOffice Impress.
or Sign In to Enable Downloads (it is FREE)